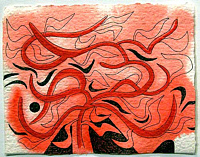 Click on thumbnail to enlarge
drag/close images
Clicca sul thumbnail per ingrandire/nascondere
trascinare l'immagine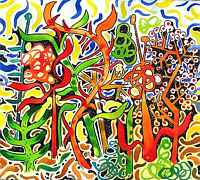 Craig Stover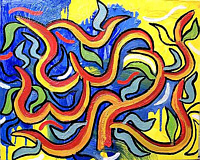 Guest artist - October 2005
An alumni of The University of the Arts, Craig Stover lives and works in Philadelphia, Pennsylvania. His studio is located in the heart of what is known as the Art Museum Area in center city Philadelphia.
Influenced by both the great masters of art that fill the museums a few blocks away and from an interest in contemporary art theory, the pictures that result are suprisingly lively and colorful.
Preferring to work in series, the artist has created works with such classic themes as The Three Graces, Adam and Eve, Odalisques and Saturn. More recently he has invented two new series called Imaginary Botanicals and Phantom Animals. Through all of this, the artist's work remains both autobiographical and socially introspective.
Craig has also worked with many distinguished organizations such as Creative Artists Network, The Philadelphia Art Alliance, The Avenue of the Arts, the Snyderman-Works Galleries, Woodmere Museum of Art, Cheltenham Center for the Arts, MusemNetwork.com and most recently with the Academy of Natural Sciences.

Visit Craig Stover website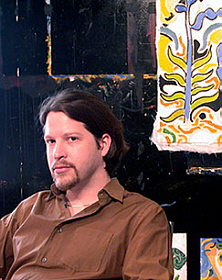 Nota sul copyright
Copyright note
Le opere esposte rimangono di proprietà esclusiva degli artisti. La loro riproduzione non espressamente autorizzata è vietata.

All artworks displayed in these pages remain the exclusive property of the respective artsts. Unauthorized reproduction is forbidden.

Todas las obras de arte mostradas en estas página son exclusivamente de derechos reservados en favor de su autor. Queda estrictamente prohibida la reproducción sin autorización.