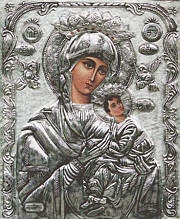 Click on thumbnail to enlarge
drag/close images
Clicca sul thumbnail per ingrandire/nascondere
trascinare l'immagine
Rocío Heredia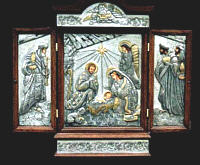 Guest artist - December 2001
Rocío is a self-taught Metalsmith artist of the Mexican Contemporary generation.
Rocío began her foray into the art metal world creating ornamental panels with a religious theme. Her artistic and creative mentor, Master Efrén Ordóñez, a mexican painter, provides support and inspiration. She is known for her extraordinary Icon covers and Jewish art, drenched in vivid brightness, and infused with the innate drama of Metals.
She holds a degree in Psychology and worked for two years in a Psychotherapy Clinic with children with low I.Q. and in the area of Psychodiagnosis, before starting a Day Care Center, which she operated for 6 years. She currently divides her time between professional website creation and metalwork. She has studied with the Master Silversmith Valentin Yotkov, in Brooklyn, New York. Her work was showcased at the Loyola Cultural Center of Monterrey in May, 2001, in the one-woman show titled 'Divine Inspiration'. Since that time, Rocío has been the recipient of recognition and awards for skillful and passionately realized themes. Recently Rocío got a Grant for an 'Artist in Residence' Award at Metalwerx Jewelry/Metalarts School in Massachusetts through the Metalwerx Education Scholarship Inc [MESI], and she was a 'Visiting Artist' at Bowling Green State University, in Ohio during the Fall of 2003.
She teaches classes and workshops on her Chasing and Repoussé technique in Mexico and abroad. Her works are in private collections in Mexico, the United States, Switzerland, Israel, Spain, Norway and Italy. She scored second place in Best Artworks and Best Artsite and third in the Master of 2001. Rocío interviews many of the guest artists for BTDesign Art Gallery. An accomplished website creator, and showcases her artworks at Rocio Heredia.com.
Visit Rocío Heredia Website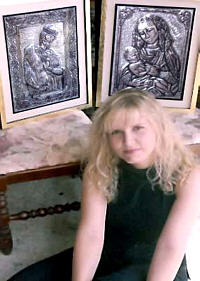 Rocío Heredia is a member of the Sculpture Jury for the Master of 2005 Annual Art Award and the author of interviews with the Guest Artists
---
Nota sul copyright
Copyright note
Le opere esposte rimangono di proprietà esclusiva degli artisti. La loro riproduzione non espressamente autorizzata è vietata.

All artworks displayed in these pages remain the exclusive property of the respective artsts. Unauthorized reproduction is forbidden.

Todas las obras de arte mostradas en estas página son exclusivamente de derechos reservados en favor de su autor. Queda estrictamente prohibida la reproducción sin autorización.
Dowload a Jig-saw Puzzle!
Scarica il puzzle
Haz click sobre la fotografía para descargar un rompecabeza