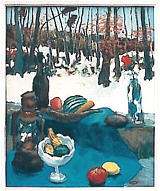 Click on thumbnail to enlarge
drag/close images
Clicca sul thumbnail per ingrandire/nascondere
trascinare l'immagine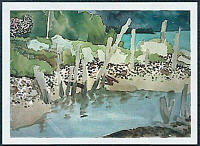 Wayne Peterson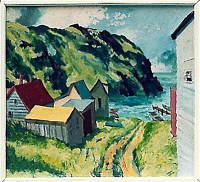 Guest artist - January 2002
Wayne Peterson was born in 1928, in the then-sleepy town of Washington, DC. His interest in art was encouraged in high school. Not stopping there, he went on to earn a BA and an MFA in painting from George Washington University in DC. It was during his time as an MFA student that he began to win First Prizes at prestigious, juried art shows. He hasn't stopped yet, winning his latest First Prize in June, 2001.
Wayne is also a teacher. He taught high school art for 13 years, and was Professor of Art at Edinboro University of Pennsylvania for 23 years, teaching both undergraduate and graduate classes in design, painting, watercolor, and drawing. He retired in 1989, and remains a Professor of Art Emeritus.
Although he paints in several genre, the majority of his works are impressionistic landscapes. In his own words, "The soft greens and tans of the [salt] marsh grasses [of the Eastern Shore of Virginia] have fascinated me for years...[and]...I am fascinated by the ocean and it's effect on the coastline – especially the rocky walls of Maine."
Visit Wayne Peterson Gallery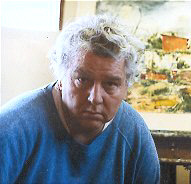 Nota sul copyright
Copyright note
Le opere esposte rimangono di proprietà esclusiva degli artisti. La loro riproduzione non espressamente autorizzata è vietata.

All artworks displayed in these pages remain the exclusive property of the respective artsts. Unauthorized reproduction is forbidden.

Todas las obras de arte mostradas en estas página son exclusivamente de derechos reservados en favor de su autor. Queda estrictamente prohibida la reproducción sin autorización.