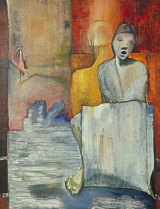 Click on thumbnail to enlarge
drag/close images
Clicca sul thumbnail per ingrandire/nascondere
trascinare l'immagine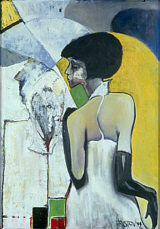 Vladimir Hristov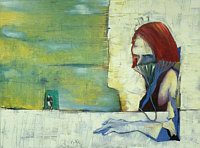 Guest artist - December 2002
Best Painter 2002

Vladimir Hristov was born in Skopje (Macedonia) in 1969. He lives and works in Amsterdam (The Netherlands).
He holds a BA in Fine Arts of the University "Sveti Kiril i Metotij" of Skopje, where he graduated in 1997. In 1998 he attended a Postgraduate Specialization Course in Multimedia at the Minerva Academy of Arts in Groningen, whose major subjects were 3D Animation, Computer Graphics and Computer Design, Interactive Multimedia, Video/Sound Editing and Pre-press Publishing. Since 1999 he has been included in various multimedia projects for the Audio Visual Company PlinQ Amsterdam, the Netherlands. He has been Art Director of two movies: " The Letter" Produced by "De Productie" - Rotterdam, "Digiprop"- Skopje and "The Referee" Produced by "De Productie" - Rotterdam, "VPRO Televisie", the Netherlands.
He has been a member of the "Art Points" organization since September 2001, for which he constantly exhibits in various locations, mostly east coast of Spain and other countries in Europe. In his hometown Skopje he participated some group exhibitions at the Museum of Contemporary Art in 1997, at the "KIC" gallery in 1999 and at the "5th Biennal of the youth artists"- Museum of Contemporary Art Skopje in 2001. He presented his works in a solo exhibition at the "The Blue Train" Gallery in Skopje in April 2000 and he has an upcoming exhibition in the Agora Gallery, Soho - New York, USA.

Visit Vladimir Hristov website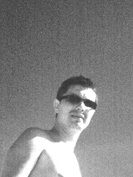 Nota sul copyright
Copyright note
Le opere esposte rimangono di proprietà esclusiva degli artisti. La loro riproduzione non espressamente autorizzata è vietata.

All artworks displayed in these pages remain the exclusive property of the respective artsts. Unauthorized reproduction is forbidden.

Todas las obras de arte mostradas en estas página son exclusivamente de derechos reservados en favor de su autor. Queda estrictamente prohibida la reproducción sin autorización.