Specific Criteria for The Elite Site Award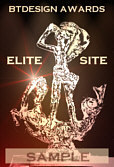 The Elite Site is bestowed on sites which are the original creation of single or group webmaster-owners.
The content can refer to any topic which is of general interest and cultural value.
The content must be original and must reside 99% on site. You can have links pointing to external resources but only if they are pertaining to the site's main topic.
Sites which are written in languages other than English must have an English version. Translations must be made by a human translator.
The site must provide some kind of free and useful resource like tutorials, manuals, original graphics, articles, research papers and others. These resources must be original and reside totally on server.
The site must offer some interactivity features such as feedback forms, email address, forums, faqs and others.
The site's graphics must be original. They must meet high quality standards and fast loading time.
All technical elements of the submitted site must be absolutely error free. Coding, navigation, links and scripts must work.
Flash enhanced sites must provide and alternate HTML version and any Flash intros must provide a skip option.
The site must be totally free of advertising like pop-up windows and banner exchange.
Absolutely no under construction or coming soon announcements.
Copyright must be respected and credit given to the authors of all texts, translations, scripts, graphics or pictures which are not the original creation of the webmaster-owner. If using public domain material this must be clearly stated.
The site must fullfill all our rules and general criteria, and obviously pass the Qualification Test.
All the winners of the Best Site award can apply for an upgrade to the Elite.
If you agree with the rules and criteria, and read my tips, you can click here and go the disqualification test before you submit your site.
Copyright © 1999-2005 Barbara Tampieri - Design by BTDesign