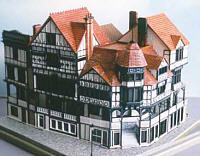 Click on thumbnail to enlarge
drag/close images
Clicca sul thumbnail per ingrandire/nascondere
trascinare l'immagine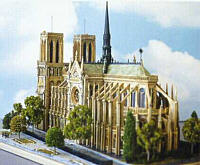 Gene Gill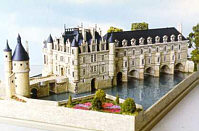 Guest artist - February 2001
Gene Gill was born in Memphis, Tennessee and received his Bachelor of Fine Arts Degree from The Chouinard Art Institute (now called The California Institute of the Arts). He has exhibited widely in the Los Angeles area since 1970, in group shows and one-man exhibitions. His paintings and graphics are included in the permanent collections of the Los Angeles County Museum of Art, The Palm Springs Desert Museum, Container Corporation of America, Atlantic Richfield Corporation, Northrop Corporation, and the Ronald Reagan Presidential Library. In addition to his career as an artist, Gene Gill was an art teacher with the Los Angeles School District for 25 years.
Gene Gill builds one-of-a-kind miniature models of historical landmarks. Each miniature is the product of careful research which includes a personal visit to the original landmark for on-site sketches, measurements, and photographs.
Back in the studio, the artist utilizes these resource materials to hand-craft each piece in mixed-media. The range of media includes the traditional wood, sculpey, and styrene, as well as whatever else may work. It is not unusual for some miniatures to contain well over 3,000 individual pieces. The average height of these replicas is an astonishing four inches and can take the artist many months to build.
Visit Gene Gill's website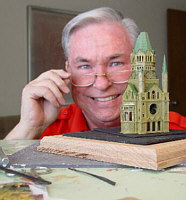 Gene Gill is a member of the Painting and Sculpture Juries for the Master of 2005 Annual Art Award
---
Nota sul copyright
Copyright note
Le opere esposte rimangono di proprietà esclusiva degli artisti. La loro riproduzione non espressamente autorizzata è vietata.

All artworks displayed in these pages remain the exclusive property of the respective artsts. Unauthorized reproduction is forbidden.

Todas las obras de arte mostradas en estas página son exclusivamente de derechos reservados en favor de su autor. Queda estrictamente prohibida la reproducción sin autorización.