Elite Site Winners - 2001
Blood - The River of Life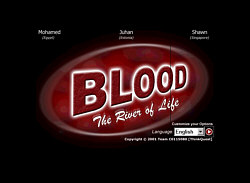 "Blood- The River of Life" takes a quantum leap into the spectrum of e-learning in our digital age. Combining the best in content and digital animation/graphics, this site provides concise yet detailed information about the circulatory system and blood. From in depth studies about the delicate biological make-up to everyday safety measures for health to a trip down memory lane, all in all a wholesome experience for any surfer in the web. Learn from an array of mediums from electron-microscopic images to animated gifs. Interactive forums and quizzes make digital learning fun for students and educators alike. Simple language and easy-to-navigate interface with online assistants caters to all classes of people, from the IT-savvy to beginners, in the world wide web. Hop on as we take you on a whirlwind ride through the arteries, veins and heart, which promises to be a entertaining and enriching experience.
"Elite Site - October 2001" to Mohamed Kamal El-Zohairy and ThinkQuest Team C0115080.
The Virtual Typewriter Museum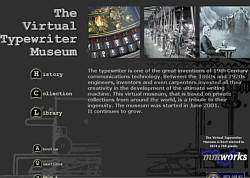 This amazing site features a virtual museum dedicated to the history of typewriter in a gorgeous and extremely use-friendly minimal design. The History section is devoted to the pioneers and the inventors of this machine while the Collection pages show an incredible number of collectors' typewrites of all kinds and times, from the very early to the most recent models. The Library pages include photo archives, books, articles, links to other resources and a very interesting "typewriters in art" section.
The entire site is definitely a must to see and an enterprise of high cultural value and entertainment. One of our favorite museums ever!
"Elite Site - September 2001" to Paul Robert.
Mostly Medieval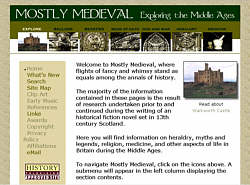 This beautiful site explores several different aspects of the life in the Middle Ages including medicine, heraldry, religion, festivals and myth and legend, and includes Celtic clip art and early music MIDI files.
The majority of the information contained in these pages is the result of research undertaken by Susan prior to and continued during the writing of an historical fiction novel set in 13th century Scotland.
You can also read the entire travelogue of Susan's two week journey throughout northern England and Southern Scotland. A site of high cultural value and entertainment. A site which is an absolute must to visit!
"Elite Site - July 2001" to Susan Wallace.
Winners 2001
Winners 2002
Winners 2003
Winners 2004
Winners 2005
Winners 2006
Best Site Winners | Golden Art Site Winners | Best Movie Site Winners | Approved Sites
Copyright © 1999-2006 Barbara Tampieri - Design by BTDesign