NurSpeak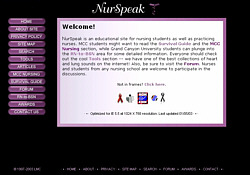 NurSpeak (site no longer available)
A very useful site for nurses and students, includes a discussion forum, a nursing school survival guide, and other tools for the practicing Registered Nurse.
In a very simple but quite elegant layout this site offers an enormous amount of material, information and research papers.
Definitely a must for anyone interested in the topics of medicine and nursing.
Elite Site (Upgraded) - January 2003 to Lisa Chestnut.